Coach Your Self Up
Unlock Your Employees' Potential Through Self-Coaching
➤ For Organizations


Behavior
Change

Growth
Mindset
Are you looking for an innovative approach to drive retention, engagement, and productivity in today's challenging environment?
Helping employees be more focused
Supporting employees in taking ownership of their careers
Creating a coaching culture
Providing "Development for All"
Cultivating a more mindful / self-aware / conscious culture
Helping employees shift their self-limiting behaviors
If you want to see ROI on your training dollars that creates real behavior change, this course is for you. 
Your Plan to Help Employees Thrive
 Choose Delivery Method
Online or in-person options are available.
Run a Pilot
Identify your target participants and assess their experience.
Roll Out More Broadly
Watch your employees remove limits and thrive.
A Sneak Peek at Self-Limiting Behaviors
Get a free program handout to see the potential self-limiting behaviors your employees will focus on.
Maximizing Employee Potential
Starts Here
Practical Tools
Participants learn the science behind self-limiting behaviors and how to shift them. They'll discover, prioritize, and start working on one of their own.
Designed to Stick
Time is dedicated to applied Learning Practices, so employees are able to reinforce new ideas and skills.
Compelling Online Experience
Includes bite-sized on-demand videos and practical exercises, plus multiple modes of interaction with an expert and peer community.
What do I get with the course?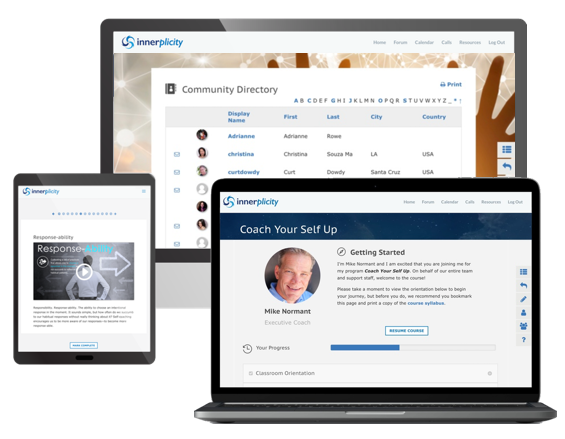 Unlock Your Organization's Hidden Potential
Your employees may have "blind spots" that are barriers to maximizing their potential or sense of fulfillment. Or maybe they're aware of their limiting beliefs or habits but believe they're impossible or too hard to change. This course draws on the proven neuroscience that individuals can change their limiting patterns and provides a simple three-step framework to do so.
Praise for Coach Your Self Up
"What could be more helpful to employees for taking ownership of their careers than learning to see where their behaviors are getting in their way and giving them tools to address that?"
.
Rich Jacquet
Former CHRO, Gigamon
"We ran most of our employees through Coach Your Self Up to expose them to what I believe are the gifts of self-awareness and taking ownership of their personal growth. While I can't put a dollar figure on it, this program delivered the results I was hoping for, and I've seen a palpable positive change in our workplace. I'm excited to see our employees opening up more, engaging more, and being more empathic towards each other."
.
 Jon Freeman
President, Stonecrest Financial
"These are deep seeded beliefs that I can easily get sucked into if I don't constantly remind myself that there is not always evidence of truth. I wish I would have learned to question these beliefs much earlier in my career, but better late than never."
.
Alice C.
Director Global Talent Business Partnerl
Instructor-Led: In-person or Virtual
Participants work through the program together in a cohort. We support private cohorts for 25-250.
On-Demand Online Program
Employees are familiar with this delivery model. Reach unlimited numbers of people on their own timelines.